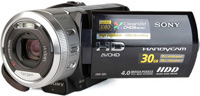 I was over at Doc Searls site earlier and he's considering buying the SR1. This is a breakthrough consumer camcorder. A 1080i HDV camcorder that has a 30Gb hard drive, is really pushing where digital camcorders need to go. Especially for us Indie filmmakers. There is one huge problem for me and other MAC users, it records AVCHD format to its hard drive. At the moment there is no third party software to allow the Apple creative community to use this forward thinking technology.
From CamcorderInfo.com:

We found the process of working with AVCHD footage to be extremely frustrating. Macs are simply incompatible with AVCHD, as Sony only provides Windows software. While we were able to import SR1 footage using our office PCs, the bundled software just doesn?t provide anything like the functionality of more robust editing programs.

We hope this problem will be addressed soon because, although many software manufacturers have pledged support for AVCHD, including Adobe, Avid, InterVideo, Nero, and Ulead, none have yet updated their products for AVCHD compatibility. They have also not yet provided a timeline for when that software will be released. Even Sony?s professional NLE, Vegas, can?t play AVCHD yet, though Vegas 7, due out soon should address the gap. Without a credible workflow solution in place, your AVCHD footage will be stuck in limbo unless you resort to the SR1?s mediocre bundled software.

We know solutions to this sorry state of affairs are in the works, but unless you?re in a real hurry to jump on board the AVCHD bandwagon, our best advice is wait for someone ? anyone ? to release a better editing solution
This would be the camcorder for me to purchase if and when they figure out the AVCHD compatibility issue. Till then I will continue to use the Sony HDR-HC1. The only reason I will use this camcorder over the others, is the fact that it has a mic port so you can add a shotgun, lavaliere or even a handheld mic to improve the audio quality. The HDR-SR1 has that function and has many potential independent filmmakers drooling…until they edit it.
But professionally, I would have to get the Panasonic HVX200.